This event is open for all professionals interested or currently working in Starups in Hanoi, or supply chai professionals in Hanoi, or who are interested in looking for business collaboration for U.S. market through meeting with a delegation of Baylor University (U.S.), Executive Master Program.
CAREER OPPORTUNITIES
PROCUREMENT MANAGER (RETAIL FASHION) - AU CHAU FASHION & COSMETICS CO., LTD
Founded in 2009, Au Chau Fashion and Cosmetic Company (ACFC) - a division of Imex Pan Pacific (IPP) Group, is the seat of some of the world's premium and most admired fashion brands. ACFC is the leader in brand management and distribution company specializing in international brands in Vietnam, a driving force of retail and distribution networks and provides full-service retail management in the country. Some our brands are Nike, Tommy Hilfiger, Diesel, Tumi, Gap, Calvin Klein, Banana Republic, Mango....
PROCUREMENT MANAGER - ABBOTT
Abbott believes in the power of health. With better health, people and communities can live better and achieve more.
- We create new solutions - in diagnostics, medical devices, nutrition and branded generic pharmaceuticals - that help people around the world, in all stages of life, live their best lives through better health.
ASIA'S EXPORT ENGINES ARE GRADUALLY HEALING FROM PANDEMIC SLUMPS
2020-10-14 22:33:59
ASIA'S EXPORT ENGINES ARE GRADUALLY HEALING FROM PANDEMIC
Asia's manufacturing engines just turned in another month of fitful progress, with September's purchasing managers indexes looking just a bit brighter, with a few exceptions.
India's factory gauge surged further into expansion, while still making up for a record-low reading in April and with more challenges ahead given a worsening Covid-19 outbreak. Japan's PMI rose to the highest level since February but remained in contractionary territory.
Vietnam improved to its best in more than a year, and Thailand and the Philippines each edged higher. Indonesia brought the biggest bad news, with its gauge slumping as Jakarta reintroduced restrictions to curb the spread of coronavirus cases.
We'll get PMI reports for two bellwethers for the global rebound in trade — South Korea and Taiwan — belatedly, on Oct. 5. China's Caixin PMI is now set for release Oct. 8, due to holidays.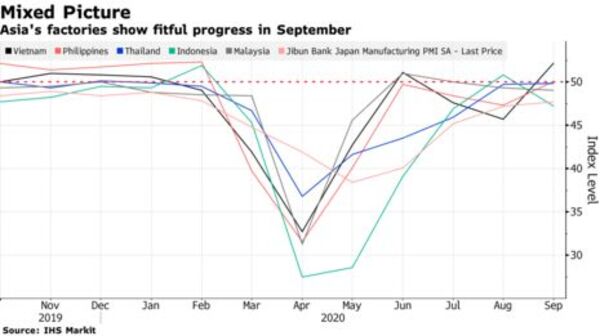 The PMIs followed more hopeful signs of the regional recovery, with a separate report Thursday showing South Korean exports gaining for the first time since the pandemic hit, and Wednesday's figures from China that indicate further momentum in economic activity.
For Vietnam, the manufacturing jump was overshadowed by a string of other data and developments in the Southeast Asian nation over the past 24 hours:
The U.S. is readying a probe into Vietnam's currency practices, people familiar with the matter confirmed — thickening the long-term plot of sticky U.S.-Vietnam relations on the sidelines of the U.S.-China trade war
Markets are still digesting the 50 basis-point cut in the benchmark interest rate announced Wednesday
A rare economy worldwide to have escaped contraction amid the pandemic, Vietnam reported Wednesday an acceleration in third-quarter growth, while slower than expected
Still, the warning more broadly from Wall Street economists heading into the final quarter of the year is that the best is already over for a global recovery. Their conclusion: What started off as a sprint is turning into a slog.