This event is open for all professionals interested or currently working in Starups in Hanoi, or supply chai professionals in Hanoi, or who are interested in looking for business collaboration for U.S. market through meeting with a delegation of Baylor University (U.S.), Executive Master Program.
CAREER OPPORTUNITIES
SOURCING / BUSINESS DEVELOPMENT MANAGER - FERGUSON GLOBAL
Ferguson Global is seeking a Sourcing / Business Development Manager to assist in our Southeast Asia sourcing expansion. This position will report directly to our Regional Manager based in Taiwan and work closely with our staff at Ferguson Enterprises, LLC headquarters in Newport News, VA, USA.
PROJECT MANAGER - ALCON SINGAPORE
The Project Manager (PMO) is a highly visible role that is responsible for driving the transformation activities for Singapore Replenishment Center (SRC) and 3rd party service providers' warehouses migration from current location to a new location. This leader will lead cross-functional internal and external resources and has overall accountability of the execution and performance of projects and transformation initiatives.
CORONAVIRUS: ONLY A THIRD OF CHINESE SMALL BUSINESSES OPEN AS OUTBREAK DISRUPTS LABOUR AND LOGISTIC
2020-02-28 10:21:30
CORONAVIRUS: ONLY A THIRD OF CHINESE SMALL BUSINESSES OPEN AS OUTBREAK DISRUPTS LABOUR AND LOGISTIC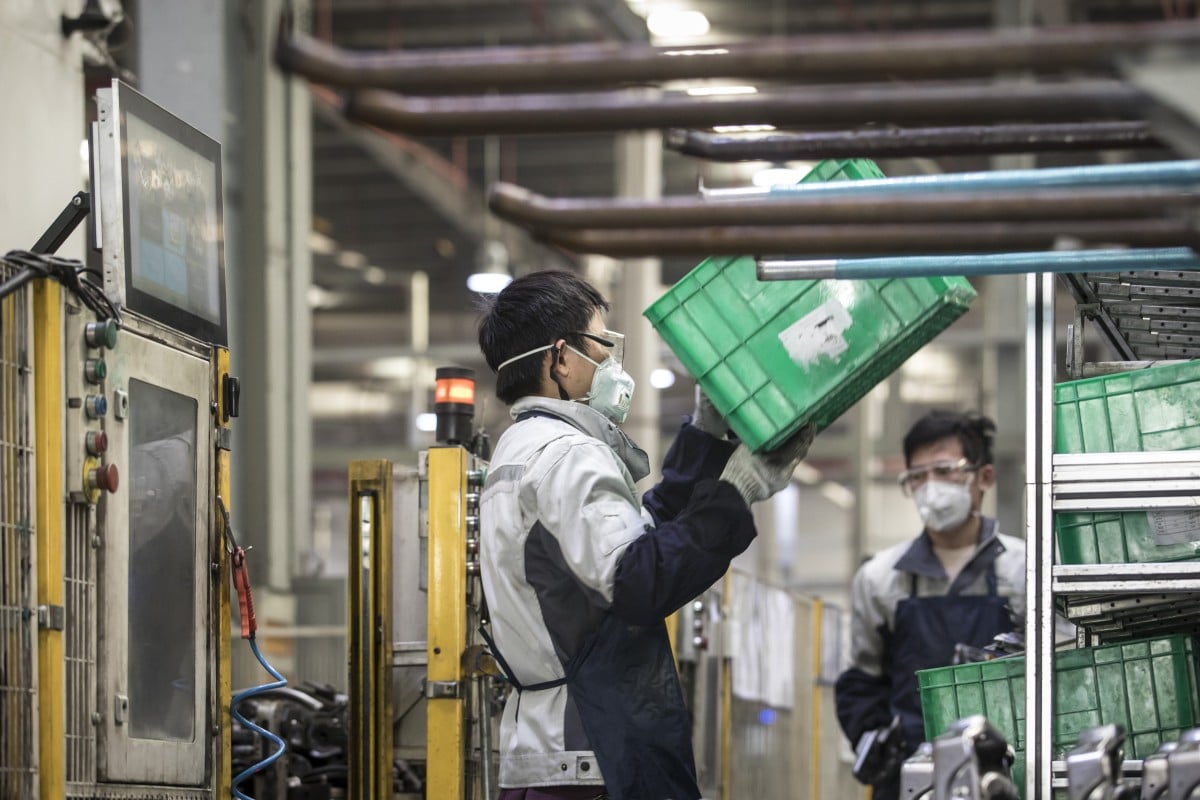 Small companies dotted around China's manufacturing heartlands have reported incremental progress in getting back to work. Photo: Bloomberg
Government says just 30 per cent of small businesses are back to work, with many manufacturers struggling to source labour due to the coronavirus outbreak
Larger producers are faring better, but still suffering a logistical hangover from China's nationwide containment efforts
A month after factories shut for the extended Lunar New Year holiday, a patchwork picture of production is emerging in China, with only 30 per cent of small businesses able to reopen due to the ongoing coronavirus epidemic.
"The smaller the size of the company, the lower the rate of work resumption," Shu Zhaohui, a senior official from the Ministry of Industry and Information Technology, told a press conference in Beijing on Tuesday.
It is a far cry from the 91 per cent of large foreign-funded companies in the southern Chinese city of Dongguan that were reported to have restarted operations as of February 23, according to local authorities.

The divergent situations amount to an unprecedented supply chain disruption, the likes of which no company anticipated, let alone planned for – regardless of their scale. While the near-total lockdown of large swathes of China began to be loosened this week, a long economic hangover is already starting to set in.
"Over the years we have helped a lot of companies do live action crisis planning on their supply chains, but the scenario was always that one critical supplier goes down. In this case, the whole country was down – nobody ever ran that scenario"- Kent Kedl
"People are working without a script, people in Europe and the US have no idea of the devastation in China," said Kent Kedl, senior partner for Greater China and North Asia at Control Risks, a risk consultancy. "Over the years we have helped a lot of companies do live action crisis planning on their supply chains, but the scenario was always that one critical supplier goes down. In this case, the whole country was down – nobody ever ran that scenario."
Small companies dotted around China's manufacturing heartlands reported incremental progress in getting back to work this week, despite President Xi Jinping's order that economic activity must be prioritised.
Susan Wang, sales manager at a textiles exporter in Zhejiang, said that despite local government notifications at the start of the month that production could resume, "the most optimistic forecast [of back to normal production] would be no earlier than mid-March".
"Most of our suppliers have only restored less than one-third of production capability," she said. "Most of the work resumption for small businesses is in the administration and sales departments, but the production part is still paused. All the factories are undergoing a severe shortage of migrant workers."
While larger companies have been able to charter transport to get workers back from their hometowns, this luxury is not available to smaller companies
– which account for 60 per cent of China's gross domestic product – leaving large pools of labour trapped in Sichuan, Hubei, Guizhou and Henan provinces, Wang added.
An official government analysis of mobile phone roaming networks in Guangdong province showed that as of February 23, about 10 million workers were stuck in their hometowns, with 1.7 million trapped in Hubei province, the epicentre of the epidemic, large part of which are still
Zhou Ping, a footwear manufacturer in Dongguan, said that production at most firms he knows of his size – with up to a few hundred workers – was still suspended. "Orders have been placed but there is insufficient capacity and staff levels in various manufacturing factories in Dongguan," he said.
Larger companies have been more successful in ramping up production – even though they are also battling similar labour issues.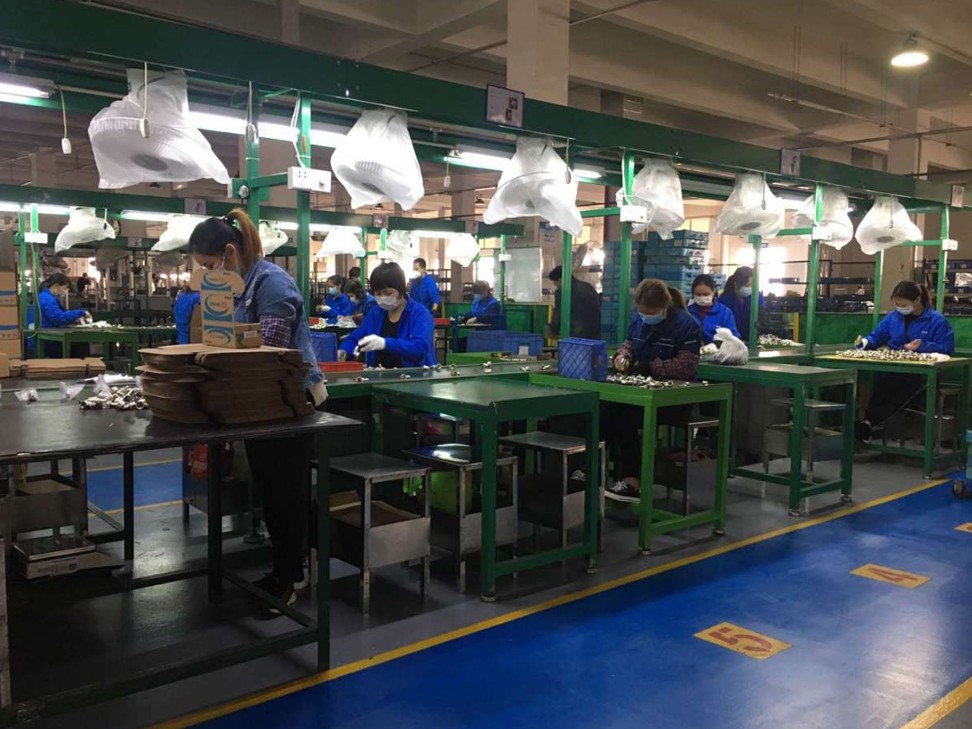 Workers in the Foshan factory of Chinese manufacturer Rifeng Group have been gradually returning to work. Photo: Supplied
Rifeng Group, a midcap manufacturer of industrial piping products, last week experienced an almost total drop-off in orders from a year earlier. This week, however, its factory in Foshan, Guangdong province, has been inundated with requests, as buyers attempt to order ahead of a predicted rush of business in March.
But with its largest production facility in Foshan staffed at only around 70 per cent, Rifeng is struggling to fulfil the demand, mainly due to a lack of machine operators.
"We need at least 300 workers, but if we employ them through brokers we will need to pay between 2,000 yuan and 3,000 yuan (US$426) per contract worker" per month compared to 1,800 yuan for permanent full time workers, said Robin Yang, Rifeng's operations director. "Training the workers wastes lots of time, but I believe some factories face the same problem we do."
Compared to last week, the company's export business to more than 80 countries has started to operate smoothly, with intra-Guangdong logistics and export infrastructure returning to normal, said the managing director for overseas business, Jason Cheng.
Its other facilities in the cities of Chongqing, Xian and Tianjin are operating at much lower volumes, while its plant in Hubei province, the virus' epicentre, remains completely shut.
"It is getting better every day," said Cheng. "Trucks [in Guangdong] are able to get the containers to the port, and we have been able to get goods to markets."
On the larger end of the food chain, Andritz China, the mainland manufacturing arm of the Austrian manufacturing and engineering giant, was this week able to increase its blue collar staff levels to 80 per cent of normal from 73 per cent last week, and office staff to 91 per cent from 85 per cent.
By the end of the week, it hopes to have 90 per cent of its 2,000 blue collar workforce back online, said company president Thomas Schmitz.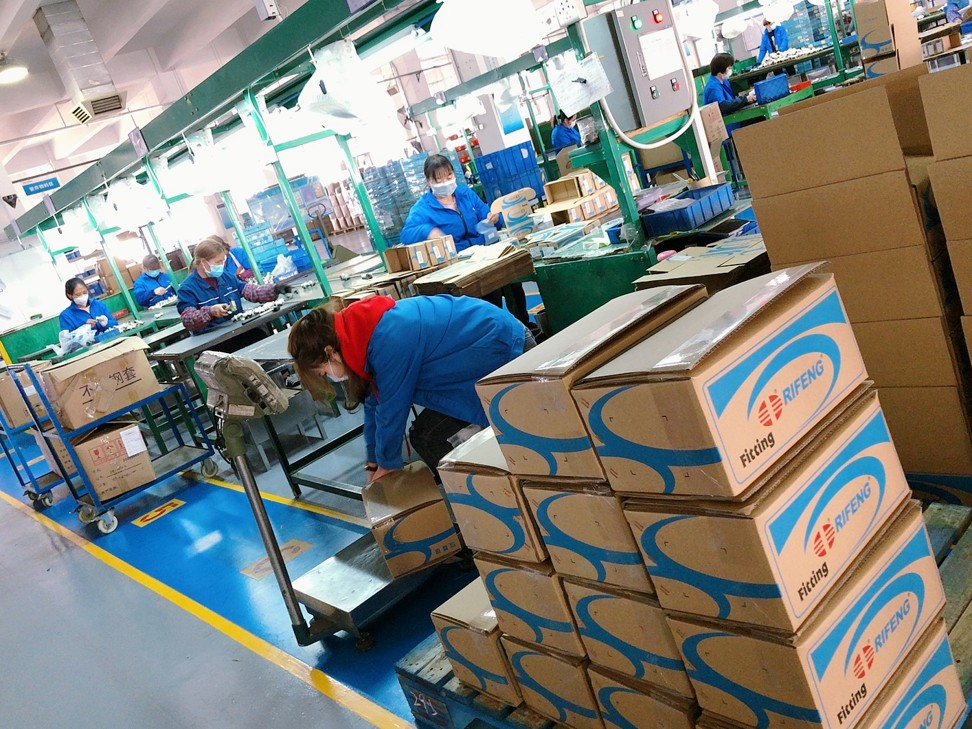 With staffing at only around 70 per cent, Chinese firm Rifeng is struggling to fulfil demand. Photo: Supplied
As the gravity of the coronavirus' spreadbecame clear, the company undertook WeChat surveys of each of its employees and contacted its suppliers over the Lunar New Year break in an effort to manage the inevitable supply chain risks, Schmitz said.
"We approached our suppliers early on and had people checking on them on a daily basis," he said. "On February 13, 61 per cent of our suppliers were not yet working, now 10 per cent are not yet working. Of our top 112 suppliers, only 10 are not available."
However, the company – which makes products ranging from hydropower plant equipment to non-woven materials for face masks to recycling separation equipment – is experiencing the same cross-provincial transport restrictions as other manufacturers.
"It has been really easy to get things to customers in Guangdong [where its factories are], but almost impossible to get them to customers in other places like Jiangsu [province]" north of Guangdong, he said. "When delivering a machine we also need to start it up, so we have more than 200 site supervisors who have stopped going to sites and they are more or less idle.
"At the moment, a lot of things are stuck in warehouses waiting for transport. I predict that everybody will soon start screaming that they need transport and the logistics companies will be overloaded. There will be a backlog that I estimate will be there until the middle of March."
Despite the company's relatively successful efforts to get up and running, it will probably lose about one month's total production this year, Schmitz added.
"I think it is an illusion to say you can catch everything up," he said.