upcoming events
1
2
3
4
5
6
7
8
9
10
11
12
13
14
15
16
17
18
19
20
21
22
23
24
25
26
27
28
29
30
31
This event is open for all professionals interested or currently working in Starups in Hanoi, or supply chai professionals in Hanoi, or who are interested in looking for business collaboration for U.S. market through meeting with a delegation of Baylor University (U.S.), Executive Master Program.
CAREER OPPORTUNITIES
SOURCING / BUSINESS DEVELOPMENT MANAGER - FERGUSON GLOBAL
Ferguson Global is seeking a Sourcing / Business Development Manager to assist in our Southeast Asia sourcing expansion. This position will report directly to our Regional Manager based in Taiwan and work closely with our staff at Ferguson Enterprises, LLC headquarters in Newport News, VA, USA.
PROJECT MANAGER - ALCON SINGAPORE
The Project Manager (PMO) is a highly visible role that is responsible for driving the transformation activities for Singapore Replenishment Center (SRC) and 3rd party service providers' warehouses migration from current location to a new location. This leader will lead cross-functional internal and external resources and has overall accountability of the execution and performance of projects and transformation initiatives.
DIGIWORLD POISED TO SELL APPLE PRODUCTS
2020-06-26 14:47:46
DIGIWORLD POISED TO SELL APPLE PRODUCTS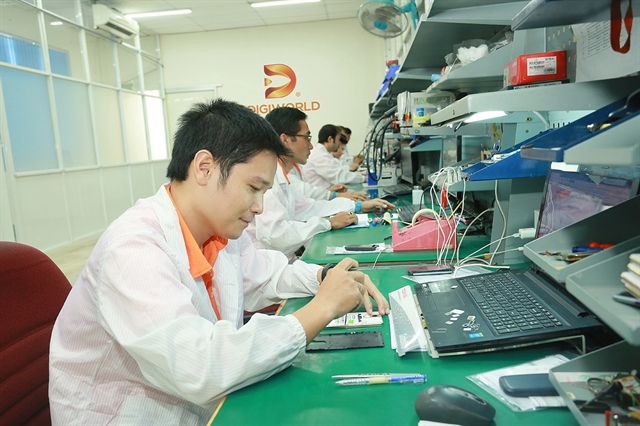 Digiworld technicians at work. The company has become the authorised distributor of Apple products, and will start selling them from the end of this month. — Photo courtesy of Digitworld
HCM CITY — Digiworld Corporation will start selling Apple products from the end of this month, confirmed Đoàn Hồng Việt, the company's chairman and general director, said yesterday.
"Apple products, especially iPhone and Macbook, are very popular in Việt Nam. Vietnamese have a great need for buying Apple products at good prices and genuine warranty."
Việt Nam is the second largest smartphone markets in Southeast Asia behind only Indonesia, according to a report by GFK.
Besides, there is an increasing number of tech-savvy and value-conscious consumers in the country, but only 60 per cent sold here are genuine Apple products, Digiworld said. Therefore, buying Apple products in the Vietnamese market means running the gauntlet of fake, second-hand and products without warranty carries from other countries. This is an opportunity for it to take over the entire market share, it said.
According to the GfK report, in the first four months of this year Apple had the third largest market share in Việt Nam and second in terms of value.
Digiworld said it wants to directly distribute all Apple product lines comprising iPhone, iPad, MacBook, Beats, Watch, Apple TV and accessories like Airpod, Earpod, keyboard, mouse, and cover.
Established in 1997, the company has been the leading market expansion services provider in Việt Nam.
It has also been an authorised distributor for more than 30 global technology brands and has a distribution network of 16,000 points of sale.
It listed on the Hồ Chí Minh Stock Exchange in 2015.
In 2017 it entered two new industries: healthcare and fast-moving consumer goods. — VNS