upcoming events
1
2
3
4
5
6
7
8
9
10
11
12
13
14
15
16
17
18
19
20
21
22
23
24
25
26
27
28
29
30
31
This event is open for all professionals interested or currently working in Starups in Hanoi, or supply chai professionals in Hanoi, or who are interested in looking for business collaboration for U.S. market through meeting with a delegation of Baylor University (U.S.), Executive Master Program.
HCM CITY EXPORTS CONTINUTE TO GROW DESPITE PANDEMIC
2020-11-04 17:05:49
HCM CITY EXPORTS CONTINUTE TO GROW DESPITE PANDEMIC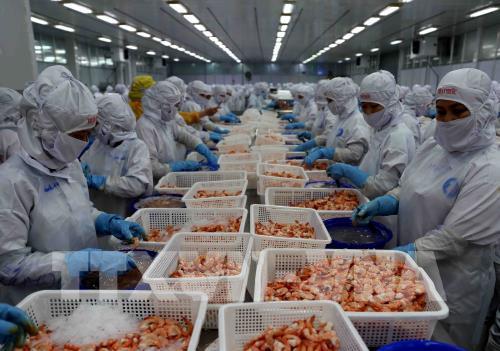 The export value of agro-forestry-fishery products reached US$3.86 billion USD in the first 10 months.
HCM CITY— HCM City's exports in the first 10 months rose 5.5 per cent year-on-year to US$36.7 billion, according to a report by its Department of Industry and Trade.
Agro-forestry-fishery produce accounted for US$3.86, a 2.25 per cent increase, industrial products for US$25.22 billion, an increase of 3.08 per cent, and others for US$2.55 billion, an increase of 12 per cent.
In terms of markets, Asia remained the biggest, buying US$19.8 billion worth of the city's exports.
China was the largest market, accounting for US$6.23 billion, up 31.9 per cent.
The US was second with US$5.47 billion, almost the same as last year, followed by the EU market with US$4.1 billion and Japan with US$2.5 billion.
Experts said Covid-19 has not had a major impact on Vietnam's trade, which continues to grow.
According to a recent survey by the city Statistics Office, half of all local enterprises affected by the pandemic thought the consumer market had shrunk, and 15.3 per cent said manufactured goods could not be sold domestically.
Bùi Hữu Thêm, deputy secretary general of the HCM City Association of Handicraft and Wood Industry, said Covid-19 had an effect on businesses, but wood products and handicrafts exports by the association's members still grew by 10 per cent in the first 10 months.
This was a great achievement by them, he added.