This event is open for all professionals interested or currently working in Starups in Hanoi, or supply chai professionals in Hanoi, or who are interested in looking for business collaboration for U.S. market through meeting with a delegation of Baylor University (U.S.), Executive Master Program.
CAREER OPPORTUNITIES
SOURCING / BUSINESS DEVELOPMENT MANAGER - FERGUSON GLOBAL
Ferguson Global is seeking a Sourcing / Business Development Manager to assist in our Southeast Asia sourcing expansion. This position will report directly to our Regional Manager based in Taiwan and work closely with our staff at Ferguson Enterprises, LLC headquarters in Newport News, VA, USA.
PROJECT MANAGER - ALCON SINGAPORE
The Project Manager (PMO) is a highly visible role that is responsible for driving the transformation activities for Singapore Replenishment Center (SRC) and 3rd party service providers' warehouses migration from current location to a new location. This leader will lead cross-functional internal and external resources and has overall accountability of the execution and performance of projects and transformation initiatives.
Internet of Things Transforms Products from Goods to Services
2015-03-30 15:20:24
The Internet of Things (IOT) movement continues to expand, not without some promotion that borders on hype, but there is clearly much action in the space by a variety of product and services providers.
A recent report from Deloitte offers a number of predictions across several areas of technology, including an interesting look at IoT that sheds some insight into how the technology will play out in the marketplace.
First, Deloitte provides some statistics, and says the IoT market is growing rapidly. It predicts that in 2015, some one billion "things" will be shipped with IoT connectivity, up 60% from 2014 and resulting in an installed base of about 2.8 billion connected devices.
The size of the IoT hardware market (chips, sensors, etc.) will hit $10 billion this year, Deloitte says, but will be dwarfed the size of the services market related to this connected things, which is expected to be $70 billion. In that services number are categories such as data plans for communications to and from the devices, consulting work, data analysis services and more.
Further, Deloitte expects the hardware market to grow 10-20% annually, while the services revenue will increase to something like a 40-50% annual growth rate.
But contrary to many news reports, just a small fraction of those revenues will come from consumers creating connected homes. The vast majority instead will come from spending on the enterprise side, as businesses ramp up deployment of IoT connected products, mine the data and sell related services to other businesses.
Deloitte provides a useful example by looking at a home washing machine. An IoT connected appliance might what allow a consumer to check remotely on whether the spin cycle is done using a smart phone. Or load the clothes before they leave the house and then turn the washer on remotely later when in some areas electricity rates or lower.
Deloitte says the utility of that kind of capability is probably modest at best for most consumers. However, Deloitte argues, the value of the information that the washer generates is "enormous" to the manufacturer, not just for information about reliability and if a machine is getting ready to fail, but for real-time information about which features are actually being used and how.
"The insights revealed by this stream of data could be worth hundreds of dollars per machine over the course of its life, recouping the cost of making the IoT-enabled washing machine ten times over," Deloitte writes.
Along the same lines, Deloitte cited some examples of a lack of direct consumer pick-up of IoT related services. For example, one utility company installed smart meters in millions of homes, which among other benefits provided consumers with a dashboard they could access to better understand their electricity consumption and perhaps opportunities for savings. Three years later, just 6% of those households had looked at the dashboard even once, and only 2% two times or more.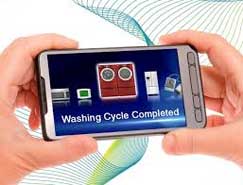 However, again these smart meters generated a lot of information relative to power consumption habits that could be of great interest to the utility itself.
The upshot of all of this, Deloitte says, is that companies need to not only look at how IoT-enabled devices can be leveraged to reduced costs, but also how to build new services and revenue streams around them.
"Often, IoT is seen as a technology driven by the CIO," Deloitte writes. "Since CIOs are not typically focused on revenue growth and innovation. Cost reduction is not bad, but it is also not enough, and the potential for adoption and business value may be broadened by reaching out to CMOs, CFOs, major line managers and even CEOs." We of course would add supply chain into that mix.
Deloitte says that IoT offers great potential to understand how consumers/customers use products throughout their entire lifecycle, and then to create better products more attuned to real needs and again find opportunities to add additional services at different points of the lifecycle.
And we likes this observation from Deloitte: "A connected product is no longer just a product - it is also a service."
On the other hand, there will be privacy issues for both consumers and businesses, and the willingness of either group to share their information likely will vary significantly by application area, Deloitte predicts.
Source: SC Digest