This event is open for all professionals interested or currently working in Starups in Hanoi, or supply chai professionals in Hanoi, or who are interested in looking for business collaboration for U.S. market through meeting with a delegation of Baylor University (U.S.), Executive Master Program.
CAREER OPPORTUNITIES
PROCUREMENT MANAGER (RETAIL FASHION) - AU CHAU FASHION & COSMETICS CO., LTD
Founded in 2009, Au Chau Fashion and Cosmetic Company (ACFC) - a division of Imex Pan Pacific (IPP) Group, is the seat of some of the world's premium and most admired fashion brands. ACFC is the leader in brand management and distribution company specializing in international brands in Vietnam, a driving force of retail and distribution networks and provides full-service retail management in the country. Some our brands are Nike, Tommy Hilfiger, Diesel, Tumi, Gap, Calvin Klein, Banana Republic, Mango....
PROCUREMENT MANAGER - ABBOTT
Abbott believes in the power of health. With better health, people and communities can live better and achieve more.
- We create new solutions - in diagnostics, medical devices, nutrition and branded generic pharmaceuticals - that help people around the world, in all stages of life, live their best lives through better health.
THREE ASIAN EXPORT ENGINES SEE THE GOOD, THE BAD AND THE UGLY
2020-10-14 22:46:23
THREE ASIAN EXPORT ENGINES SEE THE GOOD, THE BAD AND THE UGLY
The latest trade figures from South Korea, Thailand, and Vietnam are underscoring how Asia's economic outlook can look good, bad and ugly all at once.
Each of the three nations saw an improvement in exports in the releases out in the past few days, while South Korea's and Thailand's were still in contraction. A bevy of risks still weigh on regional supply chains, with day-to-day developments in U.S.-China tensions, further virus outbreaks and their accompanying mobility restrictions and an uncertain U.S. electoral outlook all looming large.
For now, though, South Korea at least saw relatively good data. Trade figures Tuesday showed that the exports slump continued to ease in August, with the decline in the daily average for overseas shipments narrowing to 3.8%.
Combined with a revised second-quarter GDP figure that was slightly better than the initial estimate, as well as South Korea's best manufacturing PMI since February, the Asian export bellwether sent some positive signals of the global economy's healing.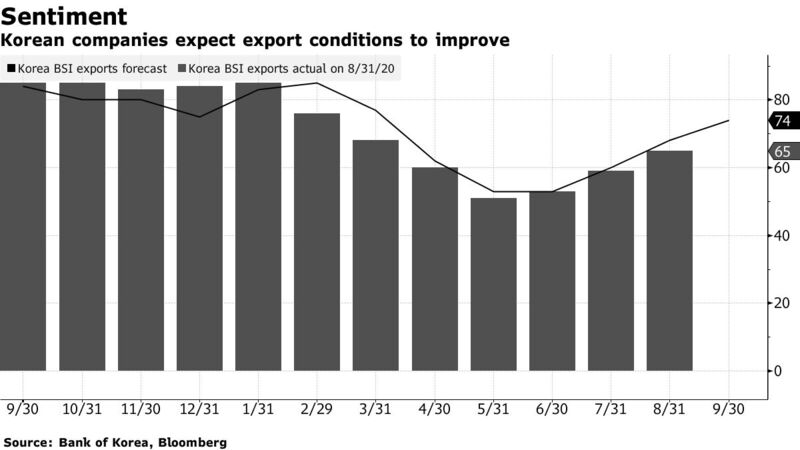 There was less to celebrate in Thailand's improvement. Exports theredropped 11.9% in July from the previous year, Bank of Thailand figures showed Monday. That's about half the contraction in each of the two prior months, though still a far cry from the five-year monthly average of 1.4% growth.
With Thailand's tourism industry cratering, services exports are especially slammed. That's left policy makers struggling to find other sources of economic growth — including the Thai deputy premier's pitch that hemp production is a fresh boost to revenue.
In Vietnam, one of the world's rare economies that could yet eke out growth in 2020, exports in August posted their best monthly performance since February. That helped to keep the year-to-date shipments growing over the same period in 2019.
It could be a tougher road ahead, though: Vietnam's PMI slipped further into contraction in August, suggesting factory managers are eyeing several trade risks with caution. And with a currency that the U.S. government is monitoring for deliberate undervaluation, things could get particularly complicated for Vietnamese policy makers as they navigate the U.S.-China trade war that was steering investment and demand in their direction.