upcoming events
1
2
3
4
5
6
7
8
9
10
11
12
13
14
15
16
17
18
19
20
21
22
23
24
25
26
27
28
29
30
This event is open for all professionals interested or currently working in Starups in Hanoi, or supply chai professionals in Hanoi, or who are interested in looking for business collaboration for U.S. market through meeting with a delegation of Baylor University (U.S.), Executive Master Program.
CAREER OPPORTUNITIES
SOURCING / BUSINESS DEVELOPMENT MANAGER - FERGUSON GLOBAL
Ferguson Global is seeking a Sourcing / Business Development Manager to assist in our Southeast Asia sourcing expansion. This position will report directly to our Regional Manager based in Taiwan and work closely with our staff at Ferguson Enterprises, LLC headquarters in Newport News, VA, USA.
PROJECT MANAGER - ALCON SINGAPORE
The Project Manager (PMO) is a highly visible role that is responsible for driving the transformation activities for Singapore Replenishment Center (SRC) and 3rd party service providers' warehouses migration from current location to a new location. This leader will lead cross-functional internal and external resources and has overall accountability of the execution and performance of projects and transformation initiatives.
Uber Self-Driving Truck Packed With Budweiser Makes First Delivery in Colorado
2016-10-27 09:52:07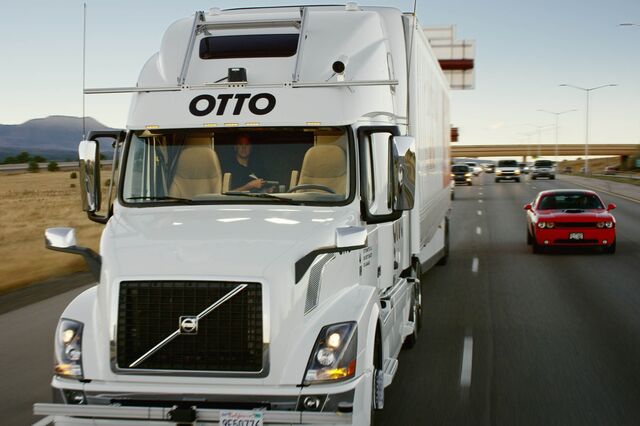 Source: Aether Films
A tractor trailer full of beer drove itself down Colorado's I-25 last week with nobody behind the wheel. Uber Technologies Inc. and Anheuser-Busch InBev NV teamed up on the delivery, which they said is the first time a self-driving truck had been used to make a commercial shipment.
With a police cruiser in tow, the 18-wheeler cruised more than 120 miles while a truck driver hung out back in the sleeper cab, the companies said. The delivery appears to be mostly a stunt—proof that Otto, the self-driving vehicle group that Uber acquired in July, could successfully put an autonomous truck into the wild.
"We wanted to show that the basic building blocks of the technology are here; we have the capability of doing that on a highway," said Lior Ron, the president and co-founder of Uber's Otto unit. "We are still in the development stages, iterating on the hardware and software."
AB InBev said it could save $50 million a year in the U.S. if the beverage giant could deploy autonomous trucks across its distribution network, even if drivers continued to ride along and supplement the technology. Those savings would come from reduced fuel costs and a more frequent delivery schedule.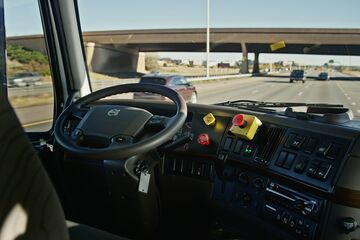 Proving the viability of autonomous trucking has become more important amid mounting regulatory and public scrutiny. Surveys show most Americans aren't sold on the technology. The U.S. trucking industry is particularly sensitive to it. While fatalities in the industry far exceed those of other businesses and could therefore benefit from improved safety, it employed 1.5 million people in September, jobs that may be threatened by autonomous vehicles.
The death of a driver using Tesla Motors Inc.'s autopilot system in May has focused political attention on self-driving vehicles and hastened calls for regulations to keep pace with the technological advances. The U.S. Transportation Department released policy guidelines for autonomous driving, which acknowledged the technology's life-saving potential while warning of a world of "human guinea pigs."
Uber's Otto team worked with Colorado regulators to get permission for the delivery and to arrange for police supervision of the shipment, said Ron. Otto spent two weeks scoping out the driving route from Fort Collins to Colorado Springs, carefully mapping the road to make sure the technology could handle it. The team wanted the trip to take place in the early morning when traffic would be relatively light and on a day when the weather was clear. Those conditions were met last Thursday, when the delivery took place.
Ron said Uber does not plan to build its own trucks and instead wants to partner with automakers, as it's doing with Volvo on self-driving cars. He said the company's discussions with truck manufacturers are in early phases.
The software still has a long way to go, too. The autonomous drive in Colorado was limited to the highway, meaning truck drivers shouldn't have to worry about finding a new profession anytime soon. "The focus has really been and will be for the future on the highway. Over 95 percent of the hours driven are on the highway," Ron said. "Even in the future as we start doing more, we still think a driver is needed in terms of supervising the vehicle."